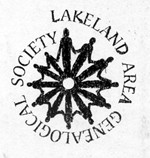 LAKELAND AREA GENEALOGICAL SOCIETY
Mailing address:PO Box 308, Minocqua WI 54548
LAGS is a group of local genealogists who have varying interests and degrees of experience in researching their family histories. The society meets once a month for a brief business meeting, and educational program and to help members with their research. These meetings are held the 2nd Tuesday of every month in the Minocqua Library, 415 Menominee Street. except for the months of July when a picnic is held at an area park and December when there is a Christmas Party at a local supper club. The starting time for all the regular meetings is 2:00 PM. Guests are always welcome.
Membership dues are $15.00 for individuals, families, or organizations, and include a monthly newsletter, which is an email newsletter. The membership year extends from April 1 through March 31.
The club has published "The Lakeland Area Cemetery Tombstone Inventory"; "Birth, Marriage & Death Indexes for The Times & Minocqua Times 1891-1926; and teh "Birth, Marriage, Death and Miscellaneous Indexes for the Lakeland Times 1927-1949". Currently the club is working on indexing the next decade of the newspaper.
Mailing address LAGS, PO Box 308, Minocqua WI 54548. For more information visit our New Website
PO Box 1132, Rhinelander, WI 54501-1132
About 1983 a group of local genealogists that brought their talents and interests together to form the Northwoods Genealogical Society. The society meets the second Monday of each month (except July) at the Rhinelander District Library. Visitors are welcome.
The society has a wonderful relationship with the Rhinelander District Library working toward a common goal of making a great genealogy department, which is housed at the library. The society has indexed the 1855 Wisconsin State Census, we have a cemetery index, an obituary index from all the Rhinelander newspapers dating back to 1882 and many other local historical and genealogy related items. The collection also contains many genealogy related items such as publications, books, microfilm, and indexes.
RESEARCH: Members will do research for a reasonable fee. Write to the society for a list of sources they will search and the cost.

THREE LAKES GENEALOGICAL SOCIETY
P O Box 101, Three Lakes, WI 54562
email: TLGSWI@aol.com


TLGS was formed to provide meetings and programs of genealogical interest and instruction in genealogical procedures. The members are researching many different ethnic origins and include beginners to advanced genealogists. In fact we have three DAR members in our group and pay special attention to helping beginners who join us

Meetings are held on the fourth Monday of each month at 1PM in the Demmer Library, Three Lakes, with the exception of November and December which are combined for our Ethnic Christmas party. Dues are $15. per year for individuals or families, which includes a "Getting Started" booklet for new members, and semi-annual newsletter. TLGS has at least one, possibly two lockins at the Demmer Library per year. The Demmer Library is a lending library for the LDS Family History microfilms, has a collection of area newspapers on film as well as local area censuses. Their History Room is extensive with microfilm reader and printer, affording our members with easy access to online genealogical materials. Meetings include a short business session followed by an instructional program or our very popular "Members Helping Members" sessions aka "brick walls and successes". In the past Members have gone on a field trip to the Wisconsin Historical Society for two or three days of research.

In addition to hosting several Cemetery Walks over the past few years, TLGS published several books on these walks and local family information. A few copies are still left for anyone interested. Our society has participated in the Three Lakes Heritage Fest each year. In the past two years they have uploaded all interments of the Three Lakes Cemetery with pictures to the findagrave.com site and have set up a system for continuance of updating in the future. Additionally in the last two years a committee has prepared several swingboards which cover local pioneer family histories and pictures, which are displayed at the Three Lakes Historical Society.

Indexing vital records from back issues of local Three Lakes and Eagle River newspapers will be our next project starting Fall 2013.

The society is willing to assist researchers of the local area wherever possible, for a small donation. For additional information contact us by mail or email as shown above.