The Marion Advertiser - Marion, WI - March 23, 1917
Reminiscences of Old Times - By D. A. Ramsdell
In this write up of the early days when we were all doing our level best to live, and let live, life was not all work and hardships, but mixed in were many pleasures, which I wish to recall as I proceed. In my opinion, nearly every person has a desire in their hearts for something to leave and to show to others of their fore-bears who have passed from earth life an autobiography, history, as a memento of some kind of treasure, they value. Not alone their loved and familiar forms now absent, but would like to remember their homes, as they were when their loved ones were living. In writing of the ch---res that have taken place, in Marion and vicinity, I may use more personality than is good form, but in order to introduce the characters, and those who brought about the events, I shall be forced to take them up, one by one, from my own knowledge and experiences, as I remember them in the days of "Auld Lang Syne". I do not promise to have it a perfectly correct history but will do my best. W. Irving Ramsdell, a brother of the writer and a veteran of the Civil War from -61 to -65, a sailor by profession, before the war and after, came to visit me at New London. During this visit he formed the acquaintance of Miss Sylvia Perry, only daughter of Dr. J. W. Perry, at this time residents of New London. After the usual acquaintance and courtship, they were married and made their home in Manitowoc, where he followed his vocation as Captain of the Schooner Sardinia. plying from Manitowoc, Two Rivers and Kewaunee to Chicago, freighted with lumber. In 1870, thinking to better his condition, he moved to Perry's Mill, Dupont township, and purchased from the Fox River Co., the N. W. 1/4, of the N.E. 1/4 Section 2, town 25, Range 13 east. Part of it is now covered by fine buildings and beautiful homes, and is known as Siegert's addition to the Village of Marion. The rest of it is now owned by Mrs. Fred Puchs, Sr. Irving died at Perry's Mill June 5th 1872, leaving a wife and two children, Pearl, aged four years, now Mrs. A. N. Trossen of Birnamwood, and Charles I, aged two years, now of Madison, Wis. Later his widow married John Siegert and they are now residents of Antigo. To honor, this brave soldier, Irving Ramsdell Post No. 79 Department of Wisconsin was named. It was organized May 11thm 1883 with the following charter members, G. F. Kirberger, W. W. Soper, Peter Rupenthal, Geo. F. Cleveland, Wm. J. Brown, A. S. McDonald, D. A. Ramsdell, Israel J. Cannon, F. W. Lade, Joseph Brahier, Henry Bramer, S. L Perry, Wm. J. Long, Henry E. Welch; fourteen in all. Those joining later up to October 1884 were: Ira Lake, Peter E. Doty, James Jordan, Robt. G. Mountain, Myron Taylor, Chas. F. Weed, R. H. Hall, E. B. Rasey, F. Herbechter, H. D. Minton, Carl Krueger, Alfred Darrell, Arnold Wheeler, James R. Bayard, Henry Stock, Geo. M. Clark, M. B. Hall, making in all 31 men. The average age as recorded was 50 years. The oldest being Arnold Wheeler, aged 60, the youngest Alfred Darrell, aged 39. There were several names I found no record of (Joseph Chevalier, Edward D. Carpenter, James H. Williamson) except their application papers, making in all 34 men. This would make the average age of these men if living 83 years. Irving Ramsdell's Post is now only a -anie. It's membership is broken for the past 30 years. One by one we have laid 22 of these comrades at rest in the Marion Cemetery, one only is left to pay the last tribute of love and respect to their memory, by placing upon the grave of each the flowers, that will wither and fade, but the pleasing remembrances of our comradeship, and association will always remain. upon each 30th day of May by the patriotism, loyalty, and devotion shown by the W. R. C. Spanish War Veteran's Military boys, and all who participate in the services of the day, the thanks of this lone old veteran, (still hale and hearty) is extended. May our Heavenly Father in his divine love, protect and guide save our county and its young men from the same experiences these men you honor have been through. Louis De Vaud, James Churchill and David Churchill, were Civil War Veterans', but I find no record of their being members of the Post, also John C. Coffman. Shall give them further mention later on.
Marion Advertiser - Marion, WI - March 30, 1917
Reminiscences of Old Times - By D. A. Ramsdell
Dr. J. W. Perry, an early resident of Dupont was on my first acquaintance with him, a resident of New London, and a practicing physician. His wife's maiden name was Mahala J. Ball of Dowagiac, Mich. The family consisted of six children, five sons and one daughter, mentioned in former article. The children were Leslie J. Perry, Stephen L., Frances O., Sylvia A., Lewis P. and Dane. In 1868 Dr. Perry purchased what is now the Mrs. E. Luschow farm and moved his family from New London. Later he sold this and bought what is now the Mrs. Mary Mierswa farm. In 1870 he built a water power saw mill on the site recently occupied by the grist mill. This he sold later to his son Stephen. He died January 7th, 1891, aged 73 years. Leslie J. Perry was born July 15, 1843 and was a Civil War veteran, belonging to the 2nd Wis. Vol. Inft. His record as a soldier was one of thrilling interest and suffering. Nineteen months of it passed in those two H--l holes of torture Libby and Andersonville Prison, where our boys were starved to death or if alive returned as Leslie did a walking skeleton. He later gained a great deal of prominence in Waupaca Co. He was a printer by profession and national writer of note, one of the five who compiled the civil war records, a work of many volumes, the labor on which took many years. For four years he was Postmaster in Paola Kansas, where he also edited a newspaper. His last years he spent in Washington D. C. where he died April 17, 1910, aged 67 years, leaving a wife and two daughters. Stephen L. Perry was born in Dowagiac Mich. April 10, 1845 and came to New London with his parents in 1854. He received his education in the New London schools, beginning his vocation of printer at the age of 15 years, in the office of New London Times edited by a Mr. Lawson. In 1863 he enlisted in Co. G. 3rd Wis. Cav. and served till close of the war. In 1870 he went to Kansas and in company with his brother Leslie, engaged in newspaper work, in Paola, Kansas. June 5th, 1872, he returned from this state and June 27th, he was married to Miss Margaret J. Smiley of Northport. Dec. 5th, 1872 they moved to Dupont, where he went in company with his father in the mill business. In 1873 he was appointed Postmaster at Perry's Mill, the name of Marion at that time. Not being satisfied of the office, he resigned in favor of Wm. B. Brainard. Thus S. L. Perry was the first P. M. of Marion, and also held the office at his death. He took up a homestead claim of S. W. 1/4 of N. E. 1/4 of Sec 2, which he had platted into village lots, selling same as low as $5.00. Later McDonald & Ramsdell had the village replatted by Frank Dorr of Antigo (having bought an adjoining forty acres) and Mr. Dorr was given the privilege of naming the future city and he called it Marion. In 1895 he began the publication of the Marion Advertiser. In 1897 he was made postmaster, which office he held until his death Nov. 5, 1912. Steve as he was familiarly called, was a staunch republican, and a fearless writer. Loyal and generous to all except himself. Five sons were born to himself and wife, four dying in infancy, and one Cecil, at the aged 23 years. Cut off at the prime of life, why it should be we know not, but "Some time, sometime we'll understand". Sylvia A. Perry was born in Dowagiac, Mich. Mar. 7, 1847. She grew to womanhood in New London, and was married in that city Mar. 17, 1868 to W. Irving Ramsdell. They made their home in Manitowoc for a short time, them came to Dupont and bought a farm. Mr. Ramsdell died June 5, 1872, leaving a wife and two children, Pearl and Charlie. In 1875, she married John Siegert. They are now residents of Antigo. The fruits of this union were Mildred, now Mrs. L .W. Boettcher of Birnamwood and Bernard, a noted musician. Francis O. Perry was born in Cass Co., Mich. Dec. 2, 1848. When a boy of sixteen he left his home in New London and set out to seek his fortune by honest labor. He hired out to a farmer on Belle Plaine and after a few years married his daughter. "the lad grew up to be a man, and the good old farmer he had, and his daughter for a bride." Several years later he sold this farm and moved to Shawano, where he now resides he was Co. Treasurer of Shawano Co. for a number of years, was one of the owners of the Shawano Journal, and Postmaster until the change of administration. Lewis P. Perry was born in Cass Co., Mich. Sept. 28, 1850 he was a child of four years when his parents came to New London. He also engaged in the printing business, with his brother Leslie in Kansas. He was married in that state in 1897. He came to Wisconsin soon after marriage and located in Gillett where he began the publication of "The Gillett Times" which he still owns and edits. For several years he has been supervisor of the village of Gillett, and was Postmaster until the election of President Wilson. He is still driving his pen in his usual brilliant style. Dane Perry the youngest son, was born in New London, Apr. 4, 1859. He was twelve years of age when his parents came to Dupont, a bright boy with much natural ability. When he reached manhood he graduated from Rush Medical College, and began the practice of medicine at Sherry. He was appointed R. R. physician for this northern country and while caring for Typhoid patients he contacted the disease and died in a hospital in Rhinelander Oct. 20, 1909, leaving a wife and four children, (a daughter by a former marriage) and three sons. Dr. J. W. Perry and wife Mahala, were of that stock early pioneers who could trace their lineage back to the loyal patriots of the Revolution, Generous and kind hearted, would share or give the last penny to any one in need. Brave in his convictions as to what he considered the right, and would defend it at any cost. My county first, right or wrong, and never at a loss for language to explain himself. Aunt Mahala was a woman well qualified and fitted as a mate to soothe and tone down a husband of his disposition. This you Marion residents will remember, in our fifty years of friendship and association, we always found her the same cheerful, hopeful woman, a loyal wife and a fond mother. After the passing of her loved partner, a widow firm in the faith that all is well and life eternal. She died at the home of her son Frank in Shawano, July 5, 1912. Mrs. Maggie Perry the only one of the Perry family remaining in Marion, is now (in company with her nephew Elmer Byers) owner of The Marion Advertiser, the building now occupied by J. D. Laughlin as P. O. and also a beautiful residence on Garfield Avenue. Here she can be found by her many friends, if not as some gathering of the Ladies' Club. It is not the custom, fashion or style, at the present age to eulogize or scatter flowers upon the living, and I am not brave enough to attempt to change. But I will say that to those of us who have known her from maidenhood, her life has been one of self sacrifice, duty and devotion to her family.
Marion Advertiser - Marion, WI - April 20, 1917
Reminiscences of Old Times - By D. A. Ramsdell
The first school in the village of Marion was located on what is known as the Steauble Addition. The building was a one story shed about 12 X 14 standing near the Post Office of today. It was not exactly in the woods, but still wild desolate looking place. The first teacher was Mrs. Sylvia Ramsdell, widow of W. ?. Ramsdell, and now the wife of John Stegert of Antigo. I do not remember the number of pupils attending but judge not many. This was in 1873. I think she also taught in 1874. The year we came here in 1875, the school was taught by Mrs. Lydia Warnick, wife of Jack Warnick of Grant, in the same building. The third teacher was a Miss Hannah Penney, of Lind, the last t teach in this building. In 1878 upon the site now owned and occupied by C. Hangartner corner of Waupaca and Ramsdell Sts., a 1-2 acre of land was donated for school purposes, and a frame building 20X40 was erected this same year. Mary Hale of New London, taught here in 1879, also Alma Gibson of Lind taught in 1876. At this period the school term was only 3 or 4 months, so often we had two teachers during the year. Miss Marion Bowman of New London, later Mrs. Geo. Patchin, taught in 1878. The last teacher in this building was Miss Margaret Bishop of Northport. A new school was built on Sherman St. Original Plat, where it stands today, but remodeled several times. In 1877 an O. G. T. Independent Order Good Templars, was organized which flourished for many years, I think it went our of existence in 1898. This same year a Temple of Honor was organized which at one time had 66 members in good standing. It dwindled down until only 7 members remained to surrender it's charter. I think in 1904 the first saloon was started by a man named Vedder, on Waupaca St., near the site of the E. M. Kissinger Harward Store. For selling liquor without a license, he was arrested, but the court here could not find from evidence that the stuff he sold was intoxicating. He afterwards tried the game without a government license. The U.S. Marshal came here from Milwaukee, and took Vedder and the same witness back with him. Before the court there, tried the same yarn could not remember what he drank. The Judge said; "Lock the witness up until he regained his memory." This he suddenly did and Vedder was out of business. In 1879 the first drug store was built and occupied by Dr. J. W. Perry. It was located on the present Palace Saloon site. He was also our first physician, Dr. L. W. Bliss also practiced medicine and law. He was college bred man. I don't remember where he came from. He and family lived in a shanty just east of the Goldwaite residence on Clinton St., Original Plat. His family consisted of a wife, son and three daughters. Dr., Mrs. Bliss and daughter Marcia, have passed on, the son and two remaining daughters, Julia and Lucy, are married and residents of Crandon. The third physician to locate here after the R. R. came was Dr. Geo. Moore of New London, this was in 1881. In 1882 he married May McDonald, a sister of S. A. McDonald. He purchased the lot and built a home upon the property now owned and occupied by J. D. Laughlin which has since been remodeled and added to. Later he located on the corner of Waupaca and Ramsdell Sts. In 1884 he moved to Donsman, there to Oconomowoc and then to ironwood, Mich., where he still resides a very successful physician. The winter of 1877 a Debating Society was organized. The first meetings were held in this schoolhouse, located where the C. Hangartner feed store now stands. Later we met in the Joint School house of Grant and Dupont. The front 1-2 acres of what is the Marion cemetery, after wards sold to me by Herman Schmidt, clerk of Joint School and platted as Ramsdell addition to Marion Cemetery; now tended and cared for by the Marion Cemetery Society, a band of ladies who are deserving of, and should have the help and respect of the entire community, for what they have done and are doing for the Cemetery.
In this school building which has since disappeared, I know not how or whence, we gathered to debate the Great and Important questions of day such as, "Which is the mother of the chicken, the hen that lays the egg, or the hen that hatches it?" and "Which is the most comfortable to live with, a good natured slovenly wife; or a clean scold?" These deep subjects were productive of great or-story. McDonald although not a benedict, had his own opinion and took a very prominent part in discussing the subject of wives. In this society we met men and women, girls and boys, no 400 or 500 was known in those days, we went for a good times and we had it. I hope I can remember all who took part, few of them are left, and I would keep them in my recollection. Dr. J. W. Perry, Erastus Ramsdell, Wm. B Brainard, W. J. Brown, A. S. McDonald, E. Dooley, D. A. Ramsdell, S. L. Perry, F. Sherman, Henry Swan, Arch. Hanks, W. R. Binkelman, Chas. Cleveland, Henry Welch, Ed. Brainard, Wallace and Henry Ramsdell, Philander Carey, Chas. Carey, Louis Bowers, L. W. Bliss usually presided as our judge and if his decisions were not about right, there would, without a doubt, appear comments in the next issue of "The Critic". The paper was open to all, prose, poetry, conundrums, questions and answers free for all, and taken by all with good humors and jest, knowing they could retaliate the next week.
My object has been, and is, in writing these reminiscences, to bring to the mind of the reader, our little community of early settlers, in the wilderness, showing up as best I may under what conditions they began their new homes, in the woods. For awhile we will leave our band of debaters, and critics, and introduce to you some of the men and women who came here prior to our time.
HELVETIA ITEMS
John Nollenberg is working for Henry Much.
Ira Trice is working for Herm. Schoen of Union.
Lillian Hansen went to Big Falls Sunday to work for John O'Dell's.
Martha Rasmussen assisted Mrs. Jolin Jossie last week.
Our cheese factory will be known as the "Range Line" cheese factory. Our farmers have co-operated and have elected Louis Much, Geo. Lombard and Chas. Winters as building committee. The hole for basement is dug and stones hauled already for the masons next week.
Fifty-two people gathered at the Hans. Hansen home on Saturday evening and gave them a great surprise. Games were played and enjoyed very much. A delicious lunch and coffee was served at midnight.
Marion Advertiser - Marion, WI - April 27, 1917
Reminiscences of Old Times - By D. A. Ramsdell
A writer with any literary ability would very likely write up a subject of this kind and bring in the characters with a better understanding of the object in view than I am able to do. That the readers of these articles will be kept guessing, as to who and what is coming next, is a certainty, for he does not know himself. In writing of the past, present and future of Marion and its vicinity, my object is to give to the descendents of those pioneers, my remembrances of them, as to where they came from, and where they located. If I miss any, it will be because there is nothing to be found in regard to them or The Advertiser refuses to publish it. I find in the Biographical History Upper Wisconsin names of many in Waupaca and Shawano Counties, who were men of prominence forty years ago. With them on page 98 is the name of James Buchanan Churchill. The following sketch would apply to many others of those early settlers whom it is my desire to bring before you. It reads; J. B. Churchill in point of residence the oldest settler of Grant Township in Shawano Co. In 1857 he purchased from the Fox River Improvement Co. a tract of 160 acres in Section 35 Grant Township, distant a scant mile, from the present flourishing village of Marion. This land was then under the territorial jurisdiction of Matteson Township and included what is now Grant, Pelia, Matteson, Fairbanks and Split Rock townships. The little log house which Mr. Churchill built stood in the midst of a dense forest, and here for many year he lived, a pioneer when neighbors were few and when frontier life meant hardships.
He was born in Cayuga Co., N.Y., in 1831, son of David A. and Martha Buchanan Churchill. In 1867 they came west, and lived with their son James until their death, the father in 1880 and the mother in 1887. In 1851, James Churchill went to Canada where he engaged in lumbering. In 1857 he married a Miss Mary Warnick, a daughter of J. C. Warnick. With his young wife he started for his prospective home in the wilds of, Wisconsin. The journey was made by rail to Fond du Lac, by boat to New London, the balance of the way on foot. For several years after the settlement, their only beasts of burden were oxen. He with others of the early residents, have told me how in those years of trial, they had been forced to carry food supplies from New London or Waupaca, upon their backs, to keep themselves and families from starvation. In July 1862 his wife Mary left him, for we trust a brighter life beyond. In 1864 he enlisted at Menasha in Co. K, 1st Wis, Heavy Artillery, stationed near Washington, D. C. He served till close of the war, being mustered out he returned to his farm. In Sept. 1865 at Bear Creek, he married Elizabeth Hehman and for five years had charge of the Welcome Hyde farm of that town. In 1870 he returned to his home to Grant. Up to my acquaintance with him, he must have done some labor, for it was called one of the best farms in Grant. In the place of oxen, he was driving a team of grey horses, which he told me were captured wild on the plains of Texas and cost him $600. He and his brother, Wm., with their teams, I engaged to bring our first goods, and household effects in Perry's Mill. From that ----? and association a friendship was formed, which never ceased, J. B. Churchill was a man well known and respected in Shawano Co. Generous and jovial, when with his boon companions, could partake of the flowing bowl with as keen a relish as any. In those days we had organized a I. O. G. T. lodge in which we tried to make him a member, but with no success. About this time The Temple of Honor started in Shawano. One day he said to me, "Dan, if you will agree to go to Shawano with me, I will furnish the team and we will join the Temple of Honor and if you will do that, I will join the I.O. G. T. here." I told him to hitch up the horses, and we would be on our way. He was not a professor of religion, but always liberal to donate, in fact was Chairman of the Committee that built the M. E. Church on Garfield Ave. A few years before his death, he purchased a home and lot in Siegert's Addition, but returned to his home in Grant where he died. His wife Elizabeth was a woman respected and admired by her many friends and neighbors. In all our gatherings she was a participant ready and willing to do her share, generous and charitable. Upon the death of her husband, there came a change that was apparent to all. She seemed to be possessed with the idea that her property was fading away and she would become a pauper and die in the poor house. I think noone of us realized the condition she was in until too late. One morning she was found suspended from the ceiling in an upper room, lifeless, by stepping off a chair placed in the center of the room. She had attached a towel to the lamp hook in the center of ceiling, fastened the towel about her neck, and then stepped from the chair, and died of strangulation, insane from worry and fear of poverty, with a beautiful home, fine farm and money in the bank. How strange and wonderful is life. They had no children and from will found after her demise, the property was equally divided between the Churchill and Hehman families. The farm was sold to Mr. Cochran. He resold it to Sylvester Leiby and he later sold it to the present occupant. I also find in this biographical sketch of J. B. Churchill the names of five brothers, Chas. I, a lumber man who died in 1855 at Ontario, Canada, Jerome, of Tioga Co., Pa., Wilbur, a resident of same county, who served 3 years in Civil War, a member of Pennsylvania Cavalry, William, a twin brother, who came to Dupont about 1870and with his brother David, settled on the farm now owned by C. C. Rasey, both Civil War Veterans. William, in a Pennsylvania Regt. and David in a New York Regt. The widow of William, now 83 years of age, "is living with her daughter Mrs. Bert Strong, a resident of the north side of Marion.:, a woman of fair bodily health, and remarkable constitution, one of the few who reach beyond the mark of four score years. On the farm now owned by John Geer in town of Larrabee, David, his wife and son Roy were long residence. David and his wife have long since passed to the life beyond, but their son Roy their only child, is a prosperous farmer in Dupont, and known to you all. In the Marion Cemetery lie the remains of David C. and wife Martha, James B., and wife Elizabeth, David and wife Harriet and William.
Marion Advertiser - Marion, WI - May 4, 1917
Reminiscences of Old Times - By D. A. Ramsdell
Ernest Pockat, one of the first customers to patronize our store, and of whom we purchased a large share of our farm produce. He came from Germany to this country and settled at Mayville, Dodge Co., Wis, in 1855. In 1859 he left there and, his wife and eleven children--am not certain they were all born prior to this removal-but there was a houseful settled upon a tract of land well supplied with wood and stone, where they soon made a farm, in Town of Grant, 2 miles north of Caroline, now owned and occupied by his son Emil. I remember the little log house and barn standing back from the road, some 80 rods and around them, a clearing of 30 or 35 acres, fenced with stone, or partially so, under good cultivation, showing conclusively there had been a good deal of labor performed upon the farm in the woods since their coming. Fifteen years of hard work had placed this family above want, and they were now in a condition to turn over to lumbermen and later settlers the produce of their labor. Ernest, Pockat was considered in 1875, a well to do farmer. That they, with a large family, succeeded in conquering and overcoming the hardships of the early pioneer, proved they are descendants of a hardy stock of people. Driving from Perry Mill's at that time, you go north on the Main road to Shawano. One mile from the county line, you come to what is known as Pockat's Hill. It is sure a hill, but nothing to what it was in those days. At the top, you reach the Pockat property, I think 1-4 Section coming this way. At the foot of the hill, upon the right hand side of the road, stands the beautiful building of Wm. Pockat, oldest son of Ernest. Wm. is getting on in years now and he and his wife, have many sons and daughters in Marion and vicinity. At the right of him is the farm of Wm. Dallum who married a daughter of Ernest. He came to Dupont about the time we did. Said he bought a suit of clothes of us about the time we opened the store. They also have many sons and daughters living here with us, and he too is beginning to look old. Julius Pockat, second son of Ernest, married and settled upon the town and county line road, three miles west of the Cemetery in town of Grant. Several years ago, he came to this village to make his home on the north side in Siegert's Addition. His wife died many years since. He has two daughters and three sons, all married. Ferdinand, third son, has a beautiful farm 1-2 mil room the Cemetery west on same road. He has several children, just how many I know not Jolin Pockat, fourth son, is a prosperous farmer near Caroline. I am not posted as to its location or as to his family. Emil, fifth son, with his family, reside upon the old homestead considered one of the best farms in town of Grant, and that is saying a good deal, some different from 40 odd years ago. He has two sons by a former marriage, one married and the youngest at home. Frank Pockat the sixth son and youngest son of Ernest, with his family reside in the town of Dupont 4 1-2miles south-west of Marion, upon what in an early day was known as the Kinney farm--will note later--, I don't think I would know him were I to meet him and have no information as to his family. Augusta, the eldest daughter, married a man named Reamer and resided in Cecil-since died-, Tessie, the second daughter, married Fred Gresseld and died many years ago, Minnie, the third daughter, married Ernest Wulk of Marion, and departed this life many years since leaving three sons. The fourth daughter married Wm. Dallum. Lydia, the fifth and youngest, married August Wiesman, a farmer of Grant. To those early pioneers, who came to this country in its age of Wilderness much honor is due. I sometimes wonder, do the descendants of those men and women realize the hardships and trials they educed. That they were brave none can question. Leaving an old settled county, the homes of their birth, the scenes of their childhood, and with little means of support they ventured out into a wilderness of timber and stone, and midst many privations, made for themselves, homes of beauty and comfort.
As one travels over this section of the country at the present time, at the rate of 25 to 40 miles an hour, one has hard work to bring his mind back to those wonderful changes that have taken place in the past 1-2 century, due to the men and women we are trying to write you about. All honor to them. The d---? apartment brick house, now owned and occupied by Arnold Maes and family, located on Block 13, McDonald & Ramsdell's addition, was built by Ernst Pockat and his son-in-law Ernest Wulk. Previous to this time, Mr. Wulk had been living on the corner of Swan and Ramsdell St. Block 12. Before this time occupied by W. H. McKay and Ward Mills as a meat market and I think by them sold to Meyer & Wullk, the building and lot since sold to Helms & Hangartner. The house moved and now located farther west in Steaubles's addition, Ramsdell St. Upon the old site and corner now stand Helms & Hangartner Garage. In 1887 E. Pockat and E. Wulk built this double roomed house with the intention I think, that Mr. Pockat would retire from the farm and reside in the village. For some reason he did not, Mrs. Wulk, the daughter was taken sick, and died while the house was in construction, leaving three small children. Some time later Mr. Wulk married his present wife, Miss Amelia Niese of Dupont and they occupied the brick house for a number of years. They now reside on the north side in Siegart's addition in a fine home with a family of nine children, all or nearly all residents of Marion. Ernest Wulk has been and is one of the progressive men of Marion for many years. The firm of Meyer & Wulk was known in Waupaca and Shawano Counties. With the farmer they were noted for their honorable dealings. When they dissolved partnership, Mr. Wulk kept the meat market where he can be found at all times, ready and willing to wait upon you and for war times, when everything we eat is sky high, and we don't know where it is going the next day, all he wants is living profits.
Marion Advertiser - Marion, WI - May 11, 1917
Reminiscences of Old Times - By D. A. Ramsdell
From the Biographical Record of Upper Wisconsin, I find part of the following: Omer A. Quimby and Amanda Crippen Quimby his wife, were born in Vermont; he in 1808. In 1850 he brought his family to Berlin, Green Lake, Wis. In 1855 he removed to New London where for two years he worked at the blacksmith trade. In 1857 he settled in what was then a part of Union Township, now Dupont. The land upon which he located was a land grant given to L. Porchert, a soldier of the Mexican War. Mr. Quimby purchased this land from L. Porchert. It lies 4 1-2 miles south of the Village of Marion on the main road to Waupaca, now owned and occupied by his youngest son, Horase. Four sons and one daughter comprised the family. David J., the eldest son, enlisted at Appleton, Wis. in 1861 in Co. I 32nd Wis. Vol. Inf. was wounded at Memphis. He was a physician by profession, is still living or was at last account. George W. was also a Civil War Veteran, a commissioned officer serving on Gen. Howard's staff until the close of the war. Returned to Appleton and I am informed, at an early date, started a store on or near where we first had ours. He is now living in Lynch, Nebr. John C., enlisted Sept. 11th, 1861 in Co. K 17th Wis. Vol. Infantry, served until March 1863, was educated at Lawrence University, Appleton, is a lawyer by profession, and resided at Symco, Waupaca Co. He is well known to you all. Horace, the youngest son, and now beginning to show his age, we meet quite after. He married Miss Martha Mobbias. To them were born four sons and a one daughter, David, Jay, George, Harley and daughter, Leaphy. With the youngest son, Horace now makes his home. Here where his wife, father and mother left him for a brighter life beyond, he expects to end his earth life. O. A. Quimby was a man of much prominence in those really days. He aided in the organization of Dupont township, was twice chairman of the township of Union and Dupont, Treasurer of the Town of Dupont, Postmaster of that section of the town for many years.
Louis De Vaud, Among the early pioneers there is but one, who has longer resided within its borders than this gentleman, who dates his residence from 1857. Mr. De Vaud was born in 1825, a native of Switzerland. In 1852 he left the East, came West, and located at Oshkosh, Wis. Here he remained until 1857 when he came to Dupont, then known as Union township. He purchased of the Government 160 acres of land in Section 26 and there erected a small lumber shanty in which he lived along until he was able to secure help to put up a log building. As he had no team, at first, was often obliged to carry flour and other necessities for miles thru the woods, on his back. Can we realize the hardships of these early settlers whose only companions were the wild beasts and the Indians, who often traveled the woods in those days. In 1858, he married Miss Phebe Quimby, daughter of O. A. Quimby mentioned above. Mr. and Mrs. De Vaud were the first couple married in Dupont Township, their marriage occurring Nov. 28, 1858. Nov 3rd 1864, Mr. DeVaud enlisted in Co. C 1st Wis. Cavalry. He was mustered in at Madison, and sent to Louisville, Ky. Was in the command of Gen. Lyon. Saw a good deal of hard service, in many battles and much scouting with Sherman to sea. Was honorably discharged July 19th, 1865 at Nashville, Ten. Mr. DeVaud was a man of sterling quality, honored and respected by all who knew him. Was Postmaster of Dupont for many years. A few years previous his death he gave up the care and responsibility of his beautiful farm, moved his family into the village, and purchased a fine residence on the North side, corner of Waupaca and Sherman Streets. Like many others of the Civil War Veterans, the hardships of former days told upon his rugged constitution, and we saw very little of him upon the streets. He passed to the life beyond in 1911, trusting to meet those gone before. His widow lived several years a constant sufferer from that dread disease, rheumatism and passed from earth life in 1915, to join her husband and loved ones gone before, leaving to mourn her loss, two only, of eight children, Frank M; the eldest son and Inez, the youngest daughter. Three of their children, one son and three daughters, Charles, Ettie and Ida were taken away in the Diphtheria epidemic, we had in and around this section of the county in 1877.About the same time their son, Elton passed away with scarlet fever. Ada, a promising young lady, the eldest daughter, came from the farm with them and for short time made her home in the village. She married the Rev. F. S. Jameson, and made her new home at Gay's Mills. She passed from earth life at this place May 30, 1914. Her remains were brought to Marion and buried in the family lot in the Marion Cemetery. The home is now in the possession of Inez, the only daughter.
Frank M. DeVaud, fortner lumber man, and progressive business man of Marion, was the first white child born in Dupont Township, Sept. 14th 1868. He was born upon the DeVaud farm of which he is now sole possessor. Is also the owner of the fine farm upon which he resided for many years, and made it what it is today, one of the best in Dupont, four miles south of the village on the Waupaca Road. He married Mamie Mines of Marion in 1886. To this union three children were born, two sons and one daughter the youngest son dying when a promising boy of ten years. Leonard M. DeVaud and his father F. M. purchased the Hardware business of W. R. Binkelman, the firm is known as L. M. DeVaud & Co. and is doing a fine business. Lulu, the daughter, a cultured young lady of this village, is loved and respected by her friends and associates. F. DeVaud would, I suppose, be classed under the head of retired farmers. Several years ago he moved from his farm and became a resident of the village. Purchased a home and lot in Clock 12, McDonald & Ramsdell addition. Deserving something better and more modern, purchased from D. A. Ramsdell a site near his own residence, and built him a fine modern up to-date home, where they now reside. One of the very busy men of Marion, part owner and Secretary of two Creameries, one in the village and one in Dupont. For two year Trustee on the village board prominent and active in all that concerns the welfare of the village and town. That he knows what is transpiring on his two farm I would be willing to take oath. If he is not there every day, it is owing to sickness and he has never had any had time for that.
Marion Advertiser - Marion, WI - May 18, 1917
Reminiscences of Old Times - By D. A. Ramsdell
William R. Binkelman, was born in Chicago, Ill., March 2nd, 1848. From there moved to Manitowoc Wis. Apr. 2nd 1887 he married Mary M. Ramsdell, daughter of Erastus and Sylvia Ramsdell of this place. Here they resided for several years, doing business in fruit and grocery store. Hoping to better their fortunes they like many others, thought there were more opportunities in a newer country. Disposing of his business in Manitowoc in 1878, they located at Perry's Mill, Dupont. In writing this early experience of Mr. Binkelman, I desire the reader to take into consideration this fact that from childhood, he had been afflicted with a hip disease that debarred him--or should have done so--from strenuous labor. His education was received in the schools of Manitowoc. That he was qualified to teach a common school; he proved with the discrimination and ambition to understand anything in sight to care for and support his family. His life and expectance one of the early settler and families of Marion; should or ought to be an example, that many a man with a more rugged constitution could follow. That his first few years here were ? ? of hardship and endurances, I can well believe. To illustrate, they had been without flour for some time. He started for Clintonville, and prevailed upon F. M. Guernsey to let him have a 60lb. sack, it being all he had and all there was to be had in Clintonville at that time. With this 60 pounds of flour upon his back, he, a cripple, whom every step was the cause of pain, it must have meant a great deal to them. About half way home he met James H. Churchill and asked him where he was going. He replied, "I am going to Clintonville for flour." Mr. Binkelman told him he had the last to be got in Clintonville. Churchill said, "I have got to have flour and I am going until I find it," which he did at New London. Mr. Binkleman said of that 60 pounds of flour they had one baking of biscuit the balance of it was loaned to their neighbors, this showing the disposition and self sacrifices made for each other. When in 1873 the Binkelmans came to Perry's Mill they lived in a small frame house built by W. I. Ramsdell and owned by his widow. They had one child, a daughter born at Manitowoc in 1872 Ollie Estelle. She married Eldert G. Vischer, then pastor of the M. E. Church at Marion. Her's was a life of devotion to her husband and friends. She passed from earth life several years ago, with the blessed faith of life eternal. Ervin-in May, the second daughter was born at Marion Nov. 11th 1874. She was educated at Oshkosh and Valparaiso, Ind. Married Wm. D. Huebotter of Texas in 1898. She departed this life a year or so ago, leaving three bright young boys, the eldest being 7 years. They are living with their grand parents at Oshkosh. Mr. Binkelman having legally adopted them. Luella, the third daughter, was born at Marion Oct. 22nd, 1876. With her father and mother her life has been one of self sacrifice to her two departed sisters. Frederic Mark, a son was born at Marion in 1877, a promising boy of eight years when he departed this life. The earthly remains of the brother and two sisters are laid to rest in the Dupont Cemetery. Tilden J., a second son was born April 14th 1879. He married Edna Cuff of New London. They have three sons, the two eldest being twins, all fine boys. Jay, as we know him, was educated in the Marion schools, finishing up a business course at Racine. Was in business with his father until he sold to L. M. DeVaud & Co. Since then he remained in their employ until six months ago, he accepted a position with a Detroit house as traveling salesman, and two weeks since his family left for Port Huron, Mich. to make their future home. Muriel, the youngest daughter of the family, was born in this village April 14th 1884. She is with her parents in Oshkosh, the life and joy of the household. I have no wish or desire to flatter or give honor or respect where it is not due, but in this case, where I can write from a knowledge of what I am writing about I think it no flattery to say that for a family laboring under the conditions that this one did, all honor is due. That he was willing anxious to undertake any kind of labor to support his family he proved. He taught school at Belle Plaine two terms, cooked in the woods, purchased 10 acres of land on the town and county line road 1 1-2 miles west of the Marion Cemetery, and now owned by Wm. Anelam, moved his family there and was living there when we came in 1875. Here with no team, trying to clear up enough to get in a crop to keep them from starving, with his neighbor Aug. Dieck who had an ox team, they would exchange work, Binkelman driving the oxen, while Dieck with his two sons August and Jule would pile up the logs, fine maple logs worth now 40 dollars per thousand feet. Had to burn them up to make room to grow something to eat. That it was a struggle to live I can well believe. In 1876 he sold his farm to Wm. Anelam and came to the village and lived in a house located where Chas. Wiesman now lives and owned by Mrs. M. Timm. On the site or near it now occupied by Joseph Miller's grocery store, Binkelman and a man named Ritter, started a Hardware Store. It was a little frame building and I think built by a man from Royalton, have forgotten his name. Later the same year, Mr. Binkelman bought out Ritter. In 1877 he bought of W. R. Brainard, two lots in Block 8; original plat, and erected the north half of the DeVaud hardware store. In this was the only hall we had for years. In this half our different societies met, here our debating club thrashed out the principal questions of the day. Perhaps the world's war could have been amicably settled by us, had Germany been ready to fight. I believe here is where Louis Bowers did his last playing for our dances. 'Twas good music and faithfully performed. Just before daylight a hat was passed around for collection. It came back, the hat did, 'this is a fact for I was there as the 2nd Violinist, and was to receive one half and there was no division of that collection, it was mostly pants buttons. Had Louis found out who was ? these buttons he would have returned them but he never did. That Mr. Binkelman prospered and his business grew, is due to his attention and hard work. In a few years he added to his store as it stands today. In 1913 he sold to L. M. DeVaud & Co. and moved to Oshkosh to take a rest. Call on him at 575 Main St. and see if you think he is. Mr. Binkelman has always taken a great interest in Marion. He is still the possessor of two fine residences, one on Garfield Ave., occupied by the Jos. Miller family and the other on Railroad Ave. and Clinton St. now the home of the Kelly family. Was Postmaster one term, Clerk of the Circuit Court at Waupaca, Chairman of the town of Dupont, Treasurer of the School District and also director of High School. Has been prominent in all that pertained to the welfare of the town and village. Their removal from this village to Oshkosh was a loss to the community and more especially the M. E. Church of which I think they are still members. That they received the rest they required by their removal would appear to an onlooker as a question for our old Debating Club. What do you say to it Will?
Marion Advertiser - Marion, WI - May 25, 1917
Reminiscences of Old Times - By D. A. Ramsdell
William H. McKay was born in 183, a native of the state of Maine where so many of our lumber men came from. In 1850 his parents came to Manitowoc Wis. and settled on a farm two miles west of Manitowoc Rapids. Here in this little Village of perhaps 100 people was a little white school house, at which I was one of the boys in attendance with a not very large crowd of boys and girls. I noticed a boy about my own age-not as good looking-but I kinder took to him. His name was William Henry McKay. Our acquaintance has been of the best since. His father, a farmer and lumberman, was logging on the Manitowoc River winters, and in the spring drive them down the river to the mills to be manufactured into lumber. The year we were 19 was my first experience in a lumber camp. I worked for his father John McKay, hauling logs from the woods, to the river, a distance of five miles or more. There were five children in the McKay family. Two sons and three daughters. W. H. being the eldest son, then Barbara, who married a man by the name of Woodcock, she passed to the life beyond many years ago. George A., the second son went to Iowa some time in the 60's and is still living. The second daughter I think Cathrine, married a man named Mack, a Civil War Veteran. They at one time resided at Clintonville or its vicinity. He passed away a number of years ago, his widow was still living in Iowa the last I heard of her. Of the youngest daughter I have no record of. The McKay family in the early 60's, moved from the farm at Manitowoc rapids into the town of Eaton in Manitowoc Co. where he lumbered that winter. Several years later they moved again to Iowa I think. The father and mother have been in spirit life many years. W. H. married in the early 60's a young lady of Manitowoc Rapids by name Jennie Hollenbeck, who departed earth life, leaving him with two sons to mourn her loss, Willie and John, both married and residents of this village and Dupont with families. In 1874 W. H. remarried a widow lady by name of Mines, with three children, one son and two daughters. The son died in this village many years ago, a bright promising boy of 12, the two daughters were Mrs. F. M. DeVaud and Mrs. Wm. Taylor, the latter departed earth life only a short time ago, leaving a husband and family to mourn her absence. To Mr. McKay's second marriage one daughter was born, Maggie, now Mrs. Wibur Zaug. In 1876 W. H. came to this village and located on 80 acres of land inside the village limits where he now makes his home with the Zaugs. A part of the time since coming here, he resided in the village on Lot 4 Block 12, corner of Swan and McDonald St. which he bought and built a residence on and occupied, also the barn now standing on Lot 5 Block 13 McDonald and Ramsdell's addition. Later sol this property to E. B. Rasey. McKay and Ward Willis, his nephew, started the first meat market on the same street. He has until within the last few years, been an active and willing worker in all that pertained to the welfare of the village. Was assessor for many years, a lumber jobber, of no mean repute, though not a member of the church was always ready to render his assistance in time of need is still hale and hearty and for a man who will count his next birthday in four score years of life is well preserved.
John Miersaw was born in 1841, a native of Prussia. At the age of 16 he left the county of his birth and came to the land of the free. How he came or for what reason he came he has never informed me, or if he came alone or with his parents. All I could find out from his was, he came to Milwaukee in 1857, left there and came to this village in 1879. By my figures he had been in Milwaukee or elsewhere in America 22 years, making him a man aged 38 when he came here. I judged from his size that he was much younger. But I soon learned to know him better. He came, a married man with wife and one child, a son. Later three daughters were born to them. He never told me where he found his wife, but he got a help mate, and a jewel, and he prizes her as one. Arthur, the eldest and only son is a R. R. man, married and lives in Shawano, has one child a daughter. Henrietta, the eldest daughter, married a R. R. man named O. D. Brooks and lives at Hunting. Mrs. Brooks is the P. M. at this place. Mabel, the second daughter is married to Herman Peters, a Marion business man, Irene, the youngest daughter is unmarried and is the Proprietress of a business, and I hope is getting rich, as she deserves to prosper. John Mierswa started the first Boot & Shoe Store in this village and I think he first located on Waupaca St. just south of Ed. Kissinger's Hardware store. For the past twenty-five years or more has held town or village offices. In all the years I served as Chairman of the town, John was town Clerk and that he made a very capable one his continuous re-election to the office was ample proof. He was Postmaster during Grover Clevelands administration, a staunch democrat in politics, run for Clerk of the Court during the Blaine and Cleveland campaign and came within a few votes of being elected. Has been Assessor and Treasurer of the village for many years and now holds the office of Village Treasurer. He owns his residence on Clinton St. where he now resides. Across the street has a Weaving factory where he can be found at all hours.
A little over one mile southeast of this village on Section 12 in 1875, lived a man named Thomas McClare, a Scotchman and a bachelor, in a little log cabin 12X12. Here he had made his home for five years or more, and was only too anxious to get back to the land of his birth Ronny Scotland. How he managed to exist on his 160 acres of land was a mystery, but he did and was apparently contented. His age must have been in the 60's. He enjoyed company and would talk all day on the wonders Wm. Wallace, Bruce and other famous warriors of Scotland.
He finally disposed of his homestead, and returned to the land of his nativity. If any of his friends ever received any news from him, from the old home, I know not, I never did. Wm. Keopke became the owner of his homestead in an early day, and it is now a beautiful farm, with buildings of brick now occupied by his son Ferdinand and family. Wm. and wife moved to the village a few years ago, and erected a fine brick residence, where they are now located, on the north side of Clinton St. William has been and is still a mason by trade, one of the hard working prosperous early settlers of Dupont. Children and grand-children they are blest with, who reside in the village or vicinity.
Marion Advertiser - Marion, WI - June 1, 1917
Reminiscences of Old Times - By D. A. Ramsdell
L. C. Bowers was born in Germany Dec. 26, 1812. He came to this country in an early date, just when, there seems to be no record. I have been informed by an early pioneer that he was the first German settler to locate in the town of Dupont. He came from Weyauwega or Baldwin's Mills. He had been married twice. His first wife departing this life leaving him with one son named John. His 2nd wife was a widow lady, a Miss May Marsh with one child, a daughter Henrietta. From the second union three other children were born, two sons and one daughter growing to ? estate a untied family of Brothers and Sisters. Previous to their coming to Dupont, John enlisted in the 42nd Wis. Vol. Inft. and never returned. He died in Cairo, Ill. Soon after John's death the family must have moved to Dupont. sometime in 1867 and located in Sec. 8 a little over a mile west of the now Village of Marion on the River Road to Hunting. At the time of our coming the Bowers farm was considered one of the prosperous farms of Dupont. Mr. and Mrs. Bowers and their two remaining sons Louis and Henry at home. The youngest daughter Mary had married Frank Case, a young farmer living one mile south of the Village on the Waupaca road. Their wedded life was of short duration. From a brief illness she was called away leaving a fond husband doting parents, loving brothers and sisters and many friends to mourn her loss. Henrietta the eldest daughter married Daniel R. Morrison Mar. 28, 1876 and located upon a tract of land in Sec. 3 1-2miles south of the Bowers homestead where they resided for many years, acquiring wealth enough by hard labor. They disposed of their farm and moved into the Village where they are still living. Mrs. Schuetzel now owns and occupies the farm. The Morrison's first moved and purchased a place in Siegert's Addition on Waupaca St. it is now occupied by the Strong family and other retired farmers. Morrison sold this and bought a house and lot in Block 19 McDonald & Ramsdell's Addition sold this and purchased a few acres just south of the Village but within its limits where they resided. D. R. Morrison was born Sept. 25th, 1850 at Wyoming Co., New York, is well known, most of his life has been passed in or near Marion has been for a number of years sexton of the Marion Cemeteries and everything is kept in this conditions by him.
L. C. Bowers Jr. retained the farm for many years. He married a Miss Anna Granger of Appleton. There was not a more promising young in Dupont or its' vicinity than Louis was. He was honored and respected by all who knew him. Was Town Treasurer for years and can date his down fall or misfortune from too much prosperity.
Marion Advertiser - Marion, WI - June 8, 1917
Reminiscences of Old Times - By D. A. Ramsdell
J. C. Warnick was born at Toronto Canada in 1805. In 1856 he came to this country and first located upon a 1-4 section of land in town of Grant. He disposed of this after a residence of two years to John Schroeder and the property has since my knowledge been called the Schroeder farm. It lies upon the road to Tigerton about 4 miles northwest of this village. Geo. G. Warnick, a brother of John C. had purchased 1-4 section of land 1-2 miles north of what is now the village of Marion and deeded it to his brother John. The south line of this farm is the county line between Shawano and Waupaca Co's. A few lots of this farm were reserved by the Warnick family as a private burial ground and upon this are the remains of Mr. and Mrs. Warnick and several of their 13 children, four only are in earth life that we haven't any trace of. There were six sons and seen daughters, the sons living are Archibald in the state of Washington and Joseph in the state of Michigan. The two daughters still with us are Sarah, the widow of John C. Coffman and Isabelle, a maiden lady. John C. Coffman was born in Edgar Co., Ill. Was a civil war veteran, a member of the Clintonville G.A.R. Post, married Sarah Warnick in 1868 during the civil war. Mr. Coffman was quite prominent in the construction of the M. & N. W. R. R. a conductor for many years. He bot the property and built the residence now owned by W. R. Binkelman on the corner of R. R> Ave. and Clinton St. There they made their home until thinking to improve his health which had been failing for some time, went to the state of Washington and never returned, died in 1903. His widow Mrs. J. C. Coffman is now and has since her husband's death remained a resident of this village--a faithful worker in the M. E. Church of which they were members, always ready, night or day to attend the sick which many a one in our village and the surrounding country will vouch for.--Her only means of support the widow's pension granted her she faces the world with a perfect faith that all is well with her.
Henry E. Welsh was the first blacksmith to work in that line we had at Perry's Mill. He had a shop on the corner of block 9, Original Plat where or near the Farmers' Hotel now stands I think. When he first came, here he located upon the land now owned and occupied by H. Bowers. He moved to the village and lived in a house where or near the Meyer blacksmith shop stands. He afterwards purchased a lot in Straubel's Addition and built the house now owned by Mr. Sprenger and occupied by Mrs. Miller. He was married three times, his first wife left him three children, two sons and one daughter. There were Willie, Arthur and Bertha. His second wife was a widow Fenton, from this marriage one son was born, Harry. He has been with you all his life and can give you what other information you want. He married Lizzie Meyer, they have twin boys and one daughter, have a fine home on Ramsdell St. west of Waupaca St. He is in the real estate, business and I hope making money. H. E. Welsh, after the death of his second wife, married the widow Carey and they resided at her farm just south of the village. He passed from earth life several years ago, was one of the few last members of I. Ramsdell's Post, a civil war veteran who served from 1861 to 65.
Philander B. Carey and family came to this part of the country in 1867. They first settled in Grant upon the John Hehman farm now owned by John Pockat. In 1866 he purchased 80 acres in town of Dupont one mile south of village, it is now occupied by Mr. May I think owner. P. B. Carey in 1875was the only carpenter to be found by us when we commenced our store and he must have learned his trade in the woods. McDonald was the best carpenter and I was the mason, I done the first plastering. An uncle visiting us wanted to know when I was bragging about it if I put it on with a washboard.
There was in the Carey family at this time five children, three sons and two daughters. Charles the eldest married Gusto Lentz whose people were early pioneers of Grant. Chas. and Gusta's wedded life was not of long duration, he passed from earth life still in the prime of life leaving a widow and several children. She is now alone, the children all but the youngest Leon, with homes of their own. Gustie owns the home they lived in. Mary Carey married James Doty, their wedded life was brief, he departed to spiritual life many years ago. She afterwards married a Chas. Johnson and several years ago located on a farm near Tigerton. Mary was a working member in our Literary Societies and quite a noted writer for the Critic. Frank, the second son died in the year of the diphtheria epidemic, a promising boy of eight or ten and a daughter about same time named Lula. George Carey was born at Dupont, married a Miss Nellie Van Vurien whose father was a resident physician of Marion for a number of years and resided on Block 9, Original Plat, owned now by Chas. Riesenberg. Geo. and his wife have four children three sons and one daughter. Orville, the eldest, a graduate of the Marion High School is now finishing his education at the University at Appleton. Ruth, the daughter graduated this week in the class of 1917. The family are now residents of Appleton where we pray they may be blessed with prosperity. They still retain their home at Marion and we may have them with us again at some future day.
Marion Advertiser - Marion, WI - June 15, 1917
Reminiscences of Old Times - By D. A. Ramsdell
In my attempt to write up the early pioneers of Marion and its vicinity there appears to be very little desire upon the part their descendants to furnish any information that would assist me in making them of interest. Perhaps it is from my lack of getting knowledge I am trying to write. Memory fades as we grow old. The faces and forms of those we met years ago are seen but dimly and many scenes of interest are forgotten. But the names we shall mention were once familiar to our sight and the most of them have children and grand children in our midst that their early experiences in the wilderness were as hard to contend with as were others we know to be the truth, all were beginning and with little to help themselves but their hands. One-half mile south of Marion lived an old man in 1875, Uncle Harry Allen, all called him. He was born in 1806 and came from the state of New York. He came to this village in 1873 and entered 80 acres of land in Sec.11, part of the same is owned by Mrs. Gusta Carey, E. Dooley, D. Morrison and others all within the Village of Marion. Mr. Allen was 80 years old at the time of his death in 1895. He made his home for many years with his daughters Mrs. E. Dooley. Ed Dooley and his wife came from Indiana, settled in Dupont in 1875, still reside upon part of the said 80. Mr. Dooley has held the office of Justice of Peace many years in the Town before the Village was incorporated and since in Marion continuously. Adjoining the Allen 80 on the south on the Waupaca Road, was the farm owned by Frank Case in 1875. He came from Bear Creek in the early 70's. He disposed of his farm several years ago and moved to Canada where he still resides. He started the first livery stable in Marion on Steuble's Addition near the site now owned by Michaelle & Bowers, merchants. He sold the building to Aug. Trossen and Shultz for a hardware store, the stock to John Sawyer and Robinson I think. South and joining Frank Case was a family by the name of Spaulding, I think he owned 120 acres, part in Sec. 11 and 14, they passed from earth life many years ago. There were several children but I don't know where they are located, the farm has passed they several hands, is now in the possession of John Buhr of Marion. Across the road west of the farm was 40 acres owned by a widow lady and her two sons named Nichols in Sec. 10. They came from County Limerick, Ireland, the husband and father named Patrick. He married Johanna Griffin and to them were born tow sons Wm. P. Nichols and Daniel J. Mrs. Nichols was left a widow in 1851. In 1853 she with her two sons left the home of her birth and young wifehood and came to America, locating first in Syracuse, N.Y. where they resided 5 years. In 1858 they moved to Loraine Co. Ohio. The experiences of those ten years were sad and full of hardships as I have often heard her tell Mrs. Ramsdell. In 1863 she came to Dupont Township. They were the tenth family within its borders. In the years of our acquaintance with Mrs. Nichols we always found her the same cheerful, unselfish disposition. A staunch member of the Catholic Church, a devoted Christian. "Blessed are the pure in heart for they shall see God." She passed from earth life the 9th of February 1885, mourned by her two sons and host of friends.
Wm. P Nichols was born Jan. 24, 1847. A boy of six years he came with his mother and younger brother from Ireland. His years of boyhood were passed in the states of New York and Ohio where re received his education, at the age of 18 years the family came to Wisconsin and located in Dupont township. Here Wm. and Daniel like all pioneers of early date, labored to clear up the home farm and experienced all the hardships of frontier life. A few years later Wm. purchased 80 acres in Sec. 16 and began to make a home of his own. April 9, 1871, he married a Miss Fannie Ruddy of Bear Creek, daughter of John and Bridget Ruddy, pioneers of Waupaca County and natives of the Emerald Isle. After the marriage they located upon his new farm and the struggle to make a home began. He built a small log house 16X20 ft. and here they resided until in 1892 when they erected a beautiful frame dwelling and a large barn to match, making it one of the prize farms of Dupont. In politics Mr. Nichols is a democrat and loyal to the flag. In Town affairs has been prominent, has held the office of Supervisor of Town, Town Clerk and Town Treasurer for many years faithful in every trust reposed to him. Several years ago they disposed of their farm in Dupont, and built a beautiful residence in Siegert's addition where they still reside, one more of our retired farmers who are helping to make Marion the Banner Village of Waupaca County. My acquaintance with Daniel J. Nichols was of a good many years duration. His was a life of love, a devotion to his mother in her declining years from the time her demise there appeared to be a change, never I think of rigid constitution his ambition and health failed him but never his unselfish care for those in need of his assistance. His was a character you read about but seldom meet. Were there more of them the world would be much better. On the same lots now owned by his brother, he had a small house, here and at the farm and with Wm. he lived until 1911 when from earth life he entered the life eternal and is to-day I believe with his mother in a mansion they are fitted to occupy.
Marion Advertiser - Marion, WI - June 22, 1917
Reminiscences of Old Times - By D. A. Ramsdell
Robert G. Mountain was born Oct. 8th 1830 in New York City. His parents were English, his father died when Robert was 8 years of age leaving his widow and three children, one son and two daughters, the eldest child a daughter. At the age of ten years, Robert left home and shipped a cabin boy upon a sailing vessel bound from New York to England. His experience from a cabin boy to a first class seaman upon salt water would make a book of interest could it be written. He was a man of good business education, must have acquired it himself said he never attended a school after he was ten years old. My first acquaintance with him was in 1860 at Manitowoc, Wis. A man of 30 years a sailor 2nd mate of the Barge Clipper City of Manitowoc. For 20 years had sailed upon salt water, claimed to have been in every country of the world. He married Miss Jane Elizabeth Ramsdell Feb. 9, 1860 at Manitowoc Wis. To them were born three children, two sons and one daughter. Robert the oldest died at Marion aged 16 years in 1882. William married Nellie Wheeler of Marion now a resident of Crandon, Wis. County Clerk of Forest County, a R. R. man by profession. Was educated in this village learned his telegraphing of Jess Turnell & Townsend. Myrtle, the daughter married a man by name of Hitchcock at Crandon, left there several years ago, now resides at Waukesha, Wis.
R. G. Mountain, a Civil War veteran enlisted at Manitowoc Wis. in the spring or summer of 1862 in Co. K 21st Wis. Vol. infantry as private, was promoted to sergeant of the Regt. during the war. At the close of the war he returned to Manitowoc where he again took up his vocation, a seaman until 1878, moved his family to Dupont desiring to make farmers of his two boys perhaps would have made a success of it but Robert died and William shot his hand all to pieces and made him self a cripple for life. R. G. purchased 80 acres of land in Town of Grant, 1 1-2 mile north of this village. Sold it to John Moericke, moved into the Village and purchased of S. L. Perry on north side of River House and lot in Original Plat, sold this back to Perry and purchased of E. B. Perry a tract of land near the depot, sold to and now owned by Fred Mauel or part of it in Reed's Addition. He built the house or part of it now owned and occupied by Peter Rogers, they lived there several years and if my memory serves me right, built the first elevator which he sold to the Goldbergs. At one time owned the farm now occupied by Below in the village. He held the office of Chairman of Dupont one year. His was a disposition that required changes. He disposed of what property he held here and returned to the Lakes where he remained several years as Captain of the Jessie Phillips, a vessel owned in Manitowoc. He moved his family again up to Crandon about, the time the R. R. arrived. Purchased considerable property, took up a 1-4 section of Government land in all of which he made well at Crandon was considered a man of note, beloved I believe by all. At his funeral which occurred in 1912. The pastor made these remarks: "By the death of R. G. Mountain the people of Crandon young and old, have lost a friend. What George Washington and Abraham Lincoln were to this country, Uncle Robert has been to Crandon." No better tribute could be paid to any man.
Edward Catencamp came to Marion from Manitowoc in 1879. He also was a sailor by profession, had sailed with R. G. Mountain in the Jessie Phillips I don't know how much he knew about farming when he came with his family and located upon the farm where he still resides in town of Grant, two miles west of the Marion Cemetery on County line road. I remember a cyclone came down the Pigeon river falling the timber on Ed's 80 so that he had no use for a stump puller. A mile wide and six miles long it left nothing standing. The village escaped by about 40 rods being that much south its course. I don't know whether it was benefit or damage to Mr. Catencamp but don't think he would care to try it over again. Ed. is one of the prosperous farmers of Grant. Has represented the town of Grant on the County Board several times, is a member of the Lutheran church, a man highly respected by all. They have sons and daughters residing in the village and vicinity who will be an honor and blessing to their parents. May they both live to enjoy the comfort of their hard labor.
Herman Smith who settled in the town of Grant in an early day came from Manitowoc. That his experience making a new home in the woods was the same as all the early settlers who came when the county was new, we take for granted. At the date of our coming, he was located upon the land now owned by one of his sons. On the County line road 1 1-2 miles west of Marion Cemetery. Mr. Smith was a man of good deal of prominence in the town of Grant. Chairman for a number of years. Was Clerk of the Joint School District where we all attended divine worship and where our first debating society gathered to settle the questions of the times. Mr. Smith was one of the first successful farmers to retire from his farm and locate in the village on the north side of the river. Built the residence now occupied by the Haufe family. Mr. Smith lived but a few year to enjoy his new home in the village. He passed to the life eternal in the year 1900, a young looking man, I think in the sixty's. He left to mourn his loss widow and six children, five sons and one daughter Emma who married James Matthews and the mother makes her home with them. Ferdinand the oldest son will come under the head of the present if I ever get that far. Herman Smith, one of the early blacksmiths of this village built the building now occupied by John Fredrick and done business there a good many years. He married Anna Buss and resided on the corner of Swan and Clinton streets. He passed from earth life in 1899 leaving a widow and four children, three daughters and one son, the daughters married, the son Arthur, a promising young druggist. The widow married John Fredrick in 1902 and they still reside in the same place. Charles Smith is somewhere north. William also a blacksmith, worked at his trade in Marion for many years, lately moved to one of our northern towns, Emil, the youngest son, is still on the homestead, a beautiful farm, one of the choice farms of Grant.
Marion Advertiser - Marion, WI - June 29, 1917
Reminiscences of Old Times - By D. A. Ramsdell
There are many early pioneers who settled in the near vicinity of Marion of whom I would desire to make mention could I secure dates of their coming and some particulars of their lives and experiences while making homes for their descendants. That it was a struggle with them all as truth which I think few of us stop to realize at the present time. But few are left of those I well remember in the 70's. But their names and where they started homes in the wilderness I do not know. On the road to Waupaca just over the hill south of the Spaulding farm lived a family by the name of Bayard, a Civil war veteran and member of I. Ramsdell Post No. 79. He was born in Indiana, enlisted in Company A 37 Wis. Vol. Infantry Nov. 12, 1865. Discharged July 5, 1894, disability. He must have settled here in the early 70's. He sold this 80 to McDonald & Ramsdell in 1878 and purchased an eighty in Section 13 where he resided until death. The widow remained for several years, then moved to Birnamwood and I think is still there with the son William. Across the Waupaca road in Section 15 lived a family by the Welch. Paddy Welch and his wife, 10 children. They were early settlers I think in 1860 they came to Dupont. They were fine people. Mr. Welsh was nearly blind and I believe lost his sight entirely before his death which occurred many years ago at Manawa. The farm is now owned I think by John Moericke. Mrs. Welsh has also passed into the life beyond. Joining Paddy Welsh on the south was the M. Farrell farm. I believe the two families came to Dupont together. They appeared to be great friends. They always came to the store in company and hardly ever without their wives. The Farrells had three children, two sons and one daughter. Ed. Farrell a boy of 12 or 14 years at the time of our coming never took to farming, was a trader and jobber, got to be a lumberman of considerable note. He moved from here a number of years ago to Rhinelander where he departed this life. Mamie, the daughter, a lovely girl and woman, married James Ruddy of Bear Creek. They moved west of this village near Hunting where they still reside on a fine farm made by hard labor and a determination to win.
Patsy Farrell gave up the homestead and bought a 40 acres near his brother-in-law James Ruddy. He has had an opportunity to know if you would succeed in life refrain from too much booze. That we are what we make of ourselves to a certain extent, is true. All men are created free and equal. Patsy has had the opportunity that few have. I would that he could awake to the fact that neglect of duty will be his ruin.
Mr. Farrell and his wife are both gone. Their once familiar faces have passed, like many others from our sight. But in memory we see them still, perhaps we shall meet again.
South of the Farrell farm, the south branch of the Pigeon river runs. Here in an early day was a little settlement comprising several buildings. A dam just above the bridge, a saw mill, blacksmith shop and several dwelling homes, the three Nohr families resided here. I don't remember the date of their locating but think in the early 70's. For years they did quite an excessive business. Some time in the 80's they rebuilt the mill adding steam to the water power. There were Albert, William and John Nohr, three brothers. Albert and William left Dupont about 1892 and went into business near Ripon, Wis., a flour mill, and are still there I believe. John is, I think still a resident of Dupont. Albert was Chairman of the Town at one time, both were members of the German M. E. Church on Ramsdell St., Steubles addition. I think they were the principal movers in it's building. They were fine people and the Town and Village suffered a loss by their leaving.
South of and joining the Nohr settlement was family by the name of Allen. Hiram Allen, a wife and one child, a daughter Annie, they must have located in the early 90's. I think they came from the state of New York and were cousins of Harry Allen. Hiram was good man, but I judge they did not enjoy the labor that it requires to make a paying farm in the woods. He disposed of it and moved to Stevensville, Outagamie County from there west I believe. Mr. Allen sold his farm to a man by name of Seiler. Mr. Seiler was there for several years. They had three sons and two daughter, the sons left the farm and went west and I have been informed are well to and quite prominent men in their locality. Some years ago Mr. Seiler disposed of the farm and followed their boys to the west. I think both Mr. and Mrs. Seiler have passed to the life beyond. The present owner is a man by name of Ed. Keup.
Turning East after crossing the south branch of the Pigeon river you take a road which a guide board reads 7 miles to Clintonville. A short mile and you will come to four corners, here you cross what is called Quarter-line road. Sometime in the future I think will be extension of Waupaca Street. Six miles due south thru Marion and Dupont just before reaching this road on the left side near the corner lived in an early date an old gentleman and his wife, Germans, by the name of Riskie they had two sons if any other children, I have no knowledge of them. The sons were married and lived 1-2 miles north of Quarter-line road or would be if ever laid out and worked and the river bridged. For years they lived there with no road, but what they made themselves. Finally after many trials an appropriation was voted and the Quarter-line road was laid out and improved. Mr. Riske and his wife are both is gone, he many years ago, she this spring old and feeble with years. The sons Wm. and Aug. are prosperous farmers. Wm. is also a wagon maker and has his wagon shop on his farm.
Marion Advertiser - Marion, WI - July 6, 1917
Reminiscences of Old Times - By D. A. Ramsdell
Conrad Hangartner was born in 1861 a native of Switzerland. He left that country in 1881 at the age of 20 years. He landed at New York the same year remaining there but short time and continued his journey West, arriving at Marion without any means to help himself. The trip from home had taken his last dime. His first work was upon he R R. as one of the section hands has told me that he got trusted for the tools he had to have to begin with. He soon bought 40 acres of land in Sec. 14 on Quarter-line and road to Clintonville, joining Riske on the east. He started his first home in the Town of Dupont. In 1885 he married Ernestine Kuschel of the Town of Larrabee. From their union to 10 children were born, nine living, three sons and six daughters. William, the oldest son resides at Bowler. John is located on corner of Ramsdell & Swan St. His write up will appear under the heading of the present, also the daughters, two of them are married to young business men of the village and the others may be before I shall be able to get thru with the past. We certainly hope so, for we don't, any of us, desire to see them taken away from Marion. Mr. Hangartner is one of the progressive men of this vicinity. In 1908 his health failing him from over work he decided to leave the farm and try some other occupation. He purchased the 1-2 acre of land on corner of Waupaca & Ramsdell St., formerly site of school house, sold by schools directors to I think John Sawyer who lived there. He sold to a man named Bean who sold to Mr. Schaetzel who sold to Mr. Vandehell. While owned by Mr. Vandehel the building caught fire and was destroyed. It was used by the last three as a store .Mr. Vandehel disposed of the site to Arnold Hangartner, a brother of Jacob Hangartner of Dupont I believe. He sold it to Conrad Hangartner in 1908. Mr. Hangartner gained possession of the property and was for some time in the insurance business and also in the manufacture and sale of cigars. The same year he erected the brick building and in 1900, moved his family into the village on the north corner of Blocks, McDonald & Ramsdell, and 2nd addition which he purchased of Ed. Smith where he still resides. He commenced selling good the same years and with the assistance of his very capable daughters, has made a success of the business. When the First State Bank built their brick building Mr. Hangartner purchased the store that stood upon that site and had it moved to the corner of Waupaca & Ramsdell St., joining his other property, making a solid front on Waupaca St. He has had it rented to several different parties but now occupies it himself for flour and feed. That Mr. Hangartner and hi wife have experienced some close times during the past 30 odd years would be a natural supposition but they have weathered the storms of adversity and are now in the harbor of contentment or have every appearance of being sold. They sold the farm several years ago to Henry Schroeder of Grant. School Dist. No 2, Town of Dupont, is located just across the road from the Hangartner place, has been there in an early day. To school exceptions joining this on the south was a farm located or owned by Edward Eisner who came I think in the early 90's. Mrs. Eisner was an invalid for many years. A number of years ago they left the farm and moved into the village and built a fine residence on Block 4 Original Plat. Here Mrs. Eisner passed from earth life full of the blessed faith and hope that in life beyond the grave she would know and understand the truth as taught by our Master and Way shower, Christ Jesus. Mr. Eisner and his two sons are left to mourn the loss of a beloved wife, a fond and loving mother. the eldest son I understand is now located in the state of Washington on a farm. Forest married Emma Shepke of Grant, her people are early pioneers of that Town. They resided upon their father's farm for a number of years but are residents of Green Bay. Mr. Eisner makes his home in the village the most of the time, when not here with one or the other of his boys, think he must be away now. Wherever he is he is to be depended upon to be doing the right thing or always has.
Near the Hangartner's and Eisner farms on the road to Clintonville, there still resides a family by name of McCrary. I don't know whether his fore-father was Scotch or not, but I know Geo. McCrary is an American for he was born in Greenville, Outagamie County Wis. in 1854. In 1863 he moved to the Town of Farmington Waupaca County. In 1877 he was married to Miss Mary McLurm, born in 1855 in Glasgow Scotland. He came to this County in 1870 and resided in the Town of Lanark, Portage Co., Wis. They were married at Buena Vista. To them were born three children, daughters, Jessie, Rena and Margaret. In 1889 Mr. McCrary moved his family to Dupont and settled upon the farm where he now resides. I think in Sec. 21 my impression is that it was slightly improved when he purchased but if so very little. To-day they have a fine farm and fine building and come under the class of the well-to-do farmers of Dupont.
Marion Advertiser - Marion, WI - July 13, 1917
Reminiscences of Old Times - By D. A. Ramsdell
Going south on the Waupaca road 1 1-2 mile from Marion you come to a road turning to the west where there is a guide post which reads, 7 miles to Big Falls. The first building you come to stands on the left, belonging to the Ratzbergs, 120 acres in Sec. 15, Town of Dupont. Wm. Ratzberg in the early 70's located upon this tract of land and made from the first and stone, one of the beautiful and productive farms of the town. I believe since his coming they have added to its acreage as that it now comprises over 200 acres. Mr. Ratzberg was a man respected by all who knew him, for many years we had dealings with him in a business way and found him true in every respect. He passed from earth life a few years ago leaving a widow and several children. One of the sons resides upon the farm, the widow making her home with him or did the last I knew of them. Mr. Ratzberg was a German and I don't think had been in this country long when he settled in Dupont.
Across the road from or opposite the Ratzberg farm, lived a man by name of Cowin. He was a peculiar acting man, a bachelor I think. He claimed to have been in the Civil War but I never found out for a certainty on which side he served, was in the south when the are began and was forced into the Confederate army. He deserted from this and enlisted in the Union. Since, I don't think he ever proved up his claim, anyway we drop upon his grave our flowered tribune each Decoration Day for what he suffered. He had an 80 acres in Sec. 10. I think it is now owned by the Ratzbergs. Quite a number of years ago he married the widow Spaulding and from ill health and trouble of different kinds were compelled to end their days in the County Poor House. Joining him on the west lived a family by name of Casper Reinke, wife and one son. They came in an early date. A number of years ago they purchased a house and lot in the village. Lot 4, Block 12, McDonald & Ramsdell's addition, now occupied by Chas. Bowers & family. Mr. Reinke is dead, Casper and son live in this village and the farm is now owned by Wm. Dick. Joining the Reinke farm on the west is an 80 acres owned by Fred Krueger and family. They came here in the early 70's. I have known them since 1875. They are industrious and thrifty people and have made from the cone standing forest, a beautiful farm with fine buildings to match, showing conclusively the fact that like a large majority of our pioneers who have endured and overcome the hardships and privations of the early settlers, they are reaping their reward and in their old age will be blessed with sufficient wealth to rest from their labor. Mr. and Mrs. Krueger have a family of several children living all I think in the vicinity of Marion. There were three brothers of the Kruegers, Chas. , Wm. and Fredrich, settled upon land Sec. 9 and 10, Town of Dupont at the same date or about. I mention Frederick as he comes first as we drive west on the road to Big Falls. Charles joined Fred on the west with an 80 acres in Sec. 9. My acquaintance with the three brothers has been for over 40 years in a commercial and business way, but with Charles our relation has been of most daily occurrence for many years. Years ago, 20 or more, Chas. had the misfortune of losing one of his hands by a circular saw. This compelled him or he so decided, to disposed of his farm and moved into the village. He purchased the hotel in Block 9 Lot 8 Original Plat, and was there for a number of years. He sold to Charles Riesenberg and moved his family over the river. They now own and occupy a fine residence on Waupaca St. in Block 1, Siegert's addition. Mr. Krueger was supervisor several years while a resident of the Town was the first Village Marshall which office he held for a number of years was also the first engineer to tackle the Village Gas Plant and when one afternoon it blew up, Chas. landed across the street still alive and kicking. Mr. Strassberg who was with him that afternoon was severely wounded and confined to his bed for some time. It created quite an excitement in the Village for a time and were forced to go back to our lamps for light. Mr. and Mrs. Krueger's children are all residents of Marion. They have sons and daughters married and single all doing their part to build up Marion. The other brother Wm. Krueger's farm joins that of the one owned by Charles on the west, his coming and experience of this family would be repetition of Fred's. I believe the three families are all members of the Lutheran church, respected and honored by the community in which they live.
Correction - In The Advertiser of June 29, an article entitled "Reminiscences of Old Times" by D. Ramsdell, gives a history of a Hiram Allen and John Seiler families, in which he says: "The Allen family had one child, a daughter Annie and the Seiler family had two daughters and three sons." Now the facts are, the Allens had two children, the daughter Annie and a son younger, by the name of Louis. The Seiler family had nine children, two daughters and seven sons Andrew, the oldest son died in the west and left a wife and two daughters. One daughter is a stenographer in the State Capital at Madison. The other daughter is living with her mother at Appleton, Eddie, the youngest son married after the family moved to Jamestown, N. D. and later died. The other sons are Oscar, Will, George, Frank and John Jr.
Now Mr. Ramsdell may think I am stretching matters in the Seiler family, but if he will call at our home, we will show him the last family picture of the Seiler family with all members on it. A. Reader
Marion Advertiser - Marion, WI - July 20, 1917
Reminiscences of Old Times - By D. A. Ramsdell
I made the statement in the beginning of these reminiscences that in my writing much of it would be from memory. I thank the reader for the correction in the Allen and Seiler article and would as far as I am concerned be pleased to have anyone interested correct any error or mistake they find. Many of those families faces of men and women whom I knew in the 70's age gone and it seems difficult to secure dates or records in my write-ups and I began to think the descendants of the early pioneers were taking little interest in them. I like to see them read and corrected. Thank you Reader.
James Jurdon was born in Ireland. I have no date of his coming, most have landed in N. Y. was a Civil War veteran. In December 1863 enlisted in New York in the 14 N. Y. Heavy artillery was discharged the 7th of Sept. 1865. He came to Dupont in an early day, settled on Sec. 16, was a member of I. Ramsdell Post joining May 30th 1884. How well I remember Jimmie Jurdon and his wife, the most affectionate couple, you could imagine it was dear and dearest on all occasions. I judge Mrs. Jurdon was a hard working woman and that Jimmie was always ailing. There were several children, sons and daughters the last I knew of them. A son Walter was a resident of Chicago and a daughter married residing in New London. Mr. and Mrs. Jurdon are both in the life beyond. Mr. Jurdon passed away at the home of his daughter in New London several years ago, Mrs. Jurdon before they left the farm. They are both buried in the Marion Cemetery, his daughter had her father's remains brought and placed beside the wife and mother. Across the road from the Jurdon farm and joining Wm. Krueger on the west resides a family by name of Schultz in Sec.9. Mr. Schultz settled in an early day. There were four children that I remember if others I have not recollection of these two sons and two daughters. Mr. Schultz passed from earth life a number of years ago. Mrs. Schultz is still living on the farm with her two sons and elder daughter Lena all three in single blessedness, yet the youngest daughter married Herman Buss of Dupont. He at one time was living on the farm joining the Jurdon farm. A few years ago they purchased of McDonald & Ramsdell 2 lots in block 3 McD.& R's 2nd addition to Village of Marion on Waupaca St. and erected a fine residence where they now reside. Lena, quite a number of years ago purchased 4? acres of land of E. Dooly on Waupaca St., joining his residence upon which we expect to see a fine dwelling one of these days with Lena and the and of her choice presiding. Miss Lena Schultz is well known by all in the village for the help and comfort she has been able to render to so many families. May the day hasten when she can see the way to the building of that home and become a permanent resident of this village. In the early 70's west of the Schultz's, Sec 9, was the home M. B. Hull and family. I have no record of his coming but think 1871. He was a Civil War veteran and a member of the I. Ramsdell Post No. 79 for some reason his record of enlistment is missing. I think he came from N. Y. state, but am not positive. He was a prominent man in the affairs of the town, was Chairman of the Town for a number of years, a man well known and respected in the county, a charter member of the Temple of Honor, also of the I.O.O.F. some 20 or 25 years ago he disposed of his farm to Frank Arndt and moved his family to Clintonville or near there from there went west, have not heard from him in years. Mr. and Mrs. Hull had two daughters, Estella and Dora. Estella was unmarried, Dora married John Phiel and are residents of the town of Larrabee near Clintonville. Joining Hull on the west was in an early day a family by name of Slater. They settled at the some time. They married sisters. Mr. Slater and wife had three children, sons, Warren, Elmer and Willis. Willis married a Miss Edith Harrington sister of Mrs. Wm Phiel and resides at Carter's Crossing. Elmer married a Miss Clara Lytle, a pioneer of Dupont who will receive mention later. Of Warren I have no record as to where he is, whether married or single. Messrs. Hull and Slater were men who it was a pleasure to meet and it was the regret of all their neighbors and friends when they decided to leave Dupont. In an early day, I think in 79 or so Mr. Slater purchased lots 2 and 3, Block 29 McDo & R. Addition, and we expected them to become residents of the Village. Instead he sold to the first section boss, a brother-in-law of Wm. Koepke I believe who built the dwelling. I think he sold to John Buhr who resided there for several years. Mr. Buhr disposed of the property to John Adams who passed from earth life a few years ago. The widow and her two sons now own and occupy the home and lots which have been remodeled and beautified until they are one of the choice homes of the village. Mr. Slater sold his farm to H. Brandenberg and moved to Clintonville and from there to Crandon. Mrs. Slatter and Mrs. Hull are both in the life beyond. Mr. Hull and Estella are the last we know of them in the west I think Nebraska.
Marion Advertiser - Marion, WI - July 27, 1917
Reminiscences of Old Times - By D. A. Ramsdell
Frank Arndt, a German by birth came to this country with his family in an early date. He first settled in the town of Fremont. From there he located in the town of Dupont, Sec. 17. Some 4 miles from the Village on the road to Big Falls you arrive at four corners. Taking the left-hand road you go south 1-2 miles and upon the hill you reach the homestead of the Arndt's or Frank Arndt, Sr. The exact date of his coming I haven't got, but it must have been in the early 70's. Like others who came with the determination of staying he went to work with a will to make a home for himself and loved ones. How well they succeeded you have but to look over his fine farm and beautiful dwellings. Mr. and Mrs. Arndt are people who make one feel at home when with them. I don't know how many children they there is Herman and Frank and a daughter living in town and village. Herman Arndt; the oldest son is now a resident of Marion. He purchased the M. B. Hull property and built a fine house and barn improved the farm in many ways. A few years later purchased the Slater property of H. Brandenberg making a farm of 10 acres. Herman married a Miss Smith, they have one daughter married and her husband carries on the farm. Herman worked himself near the other life on the farm several years ago. He purchased of A. S. McDonald two lost in block 17. McDonald & R. add. and built them a beautiful home. He now begins to look and feel like himself again. He spends part of his time driving his fine span of horses to and from the farm. Frank has a farm near his father's. The sister is married and they have their home nearby on a farm. If Mr. and Mrs. Frank Arndt, Sr. have other children, I have no record of them and I don't wish to let any of the old pioneers escape me in these reminiscences and in my mention of them shall write all of interest that I can find out if any of the descendants of those would give me a few notes I would like it. I think that Frank Arndt St. is one of the very successful men of Dupont since 1875. He has been a faithful laborer for those dependent upon him. He must be several years past the allotted age of men. May he and his faithful helpmate live many years longer and enjoy the fruits of their labor. Coming this way from the Arndt homestead and I think joining him on the north is the home of Wm. Schroenrock and family. They must have settled in the 70's. There is quite a large family of children living in the vicinity of Marion. Paul Schoenrock, a son of Wm. has just purchased 2 lots in Block 2 McD & R add. and built and become residents of Marion. Just north of the Schoenrock place stands the school house Dist. No. 4. I don't know as it is the same building but there was school there over 40 years ago. On the right hand corner going north a number of years ago. Roy Churchill built and operated a cheese factory. He was there several years and sold the plant to a Mr. Smith. It is a fine location and I think well patronized, 80 rods north of this corner in an early day you came to a family by name of Wm. Phiel. He located an 80 acres in Sec. 8. The date of coming must have been in the early 70's. They came from New Castle or near there. Mr. Phiel married a Miss Florence Hemmingway. There were 6 children born to them, 3 sons and 3 daughters, Albert, Warren and Lester, Emma, Edna and Evera. Some twenty years or more Mr. Phiel disposed of his farm in Sec. 8 and purchased 120 acres in Sec. 25, I believe of Geo. Cleveland and here they lived for many years. Mr. and Mrs. Phiel have passed to that life beyond. They were both firm in their belief, that death here was the beginning of life eternal. The children are all living except the oldest daughter Emma who married Bert Quimby and departed this life several years before her parents. Evera married one of the Bussian boys and they are residing in Canada. Edna and the only boys are married have homes of their won. Mr. and Mrs. Wm. Phiel were people that it was a pleasure to meet. They were some of the first we formed the acquaintance of when we came to the wilds of Dupont. They were both too young in years to die, but the loss to their children and friend was their gain if their beautiful faith is a truth and why not, we would not call them back.
Marion Advertiser - Marion, WI - August 3, 1917
Reminiscences of Old Times - By D. A. Ramsdell
North of the 80 acres owned by Wm. Phiel in the 70's there was living a family by the name of Luedtke. Fred Luedtke was born in Germany. At what age he came to this county I have not date. He located in Sec. 8, Town of Dupont in 1874. I knew them well in the early days. He and his wife were some of our first customers they were then along in years and have gone to the spiritual life beyond some 10 years ago, leaving their two sons, Aug. and Frank Both married and residents of the farm. I am not as well acquainted with them as with their parents but I hope they are making good.
Across the road from the Luedtke homestead was a man and his wife living by the name of Lemke. They came from Germany and settled on Sec. 9 in Town of Dupont. Some 14 years ago they sold their farm to John Schroeder and moved to Clintonville.0 They never had any children, they have both passed from earth life, the last time I saw John Lemke he was working for the Standard Oil Co. That must be ten yours ago. Joining the John Lemke place East lived a family by the name of Kroll. Fred Kroll was a German by birth, came to Dupont in 1872 and settled on Sec. 9. He married a Miss Bekie Leverence. To them were born 4 children, Albert 3 daughters, Martha, Emma and Ada. Martha married Herman Halpop and they own and reside in Steauble's addition on Ramsdell St. a fine dwelling which I think they built 12 years ago. Mr. Halpop is employed at Rogers & Johnson's Excelsior factory. Emma is married and resides in Appleton. Ada departed this life in 1912 Mrs. Kroll spends her time with her children. Albert, I am informed, resides on the farm. The Kroll family are held in high respect by all who know them. Mr. Kroll was Town Treasurer for many years. I think at the time of his death which occurred in 1911 he was still holding the office was also a prominent worker I believe in the Dupont Farmers Insurance Co. Fred Leverence was born in 1818 of German decent, married a Miss Anna Roholoff. They came and settle din Dupont on Sec. 5 in 1873. They had born to them 7 children, all daughters 4 of them are in the life beyond. Emma, Hatie and Bertha are still with us. Emma married Charles Krieser?, well known to Marion who is now proprietor and owner of the R. R. R. at depot. Bertha married Ed Gruenstern, I think a farmer. I don't know if Hattie is married or single. Mr. Leverence sold his farm several years ago to S. Gruenstern and retired from farm life. He purchased a house and several lots on Ramsdell St. in Steuble's addition to the Village of Marion and has been a resident here since 1910. We meet Fred on the street about every day and he appears to be enjoying Village life. It is over 40 years since they used to drive in to the store Leverence and his neighbors some if not all with ox teams, now it is milk checks from $100 to $500 per month and they come at the rate of 25 or 30 miles per hour, a mighty change from 40 years ago.
Joining Leverence on the East in Sec. 8, was the home of Wm. Zietlow. Joining him the south lived his brother, August, Germans by birth. They, with their families settled in Dupont in 1873. One of the men I think Wm. was or had been a soldier in the French and Prussian was I think if one but knew, there would many things of interest instructive and interesting just at the present time. A number of years ago Wm. purchased of Mrs. Goldberg a house and lot on north side of river on Waupaca St., Original Plat, 3 or 4 years ago they departed this life. There were 3 children, 2 sons and one daughter. The daughter passed to spiritual life before her parents I have been told. The sons were Herman and Fred. Herman I think is living in one of the towns, north of us, Fred in the village. Fred, the brother of Wm. and his wife are both gone, they had several children, I cannot say anything as to their whereabouts.
I believe that 90 percent of the population of Marion and its vicinity are of German decent. That they are faithful and loyal to the country of their adoption is a fact I think beyond dispute. They left the land of their birth for the same reason that men of other nationalities did to better their condition that they have found here what they were seeking the thrift comfort and prosperity of their homes answer and that they are people with the courage to defend themselves in time of need they have proven.
The day has come with us in America when every man who has taken the oath of Allegiance has become an American. It is time to drop this question of birth and remembering we have no country but this and no flag but the stars and stripes, the emblem of Freedom.
Marion Advertiser - Marion, Wisconsin - August 3, 1917

No. 1
Article continued >>>

No. 2

No. 3

No. 4

No. 5

No. 6
Marion Advertiser - Marion, WI - August 10, 1917
Reminiscences of Old Times - By D. A. Ramsdell
Louis Herzberg was born in Germany and married a Miss Hannah Kroll, sister of Fred Kroll. To them were born 4 children, three sons and one daughter Hattie. The sons were Herman, Louis and Fred. Herman resides on a farm joining the homestead. Louis in one of the growing towns north. Fred still lives on the home farm. I have no record of Hattie. Louis Herzberg came to Marion or Dupont in 1872 and located on Sec. 9. I remember well the little log house and barn in the woods where in 1875 they settled 3 years previous to our coming some 2 1/2 miles south-west of Perry's Mill, now the beautiful and thriving Village of Marion. The thrift, enterprise and growth of the town and village are due to just such men as Louis Herzberg, Sr. and other pioneers of his class whom I am trying to mention. As you drive west from Marion on the road to Hunting, you come to a road one mile from the village. Going south 1/2 mile you turn again west. At this time in the early days were the homes of H. E. Welsh and David Morrison, now owned by Henry Bowers and Mrs. Schaetzel. West of these farms in the old days you drive down a hill that in olden times was nearly straight up and down, here in a beautiful valley on the left stood a log house owned by Fred Kerberger. Across this 40 acres the road gradually ascends until you reach the level. There on the left you now reach the magnificent home of the Herzbergs. From the log building of 1875 you see now in their place a home with all the modern conveniences of a city, due to the labor and energy of a family like into the Herzbergs. Mr. Herzber departed this life some 3 or 4 years ago, I believe Mrs. Herzberg also, but of this I am not positive., G. F. Kerberger was born in Prussia. I have not date as to when he came to this country. He was a Civil war veteran, was a member of the 3rd Wis. Cavalry, served as bugler of Company B, discharged in September 1865. He was one of the Charter members of I. Ramsdell Post No. 79. He must have settled in Dupont in the early 70's. Sometime in the 80's, he disposed of his farm to a man by name of Booth and moved to Clintonville. They had children but I have no record as to where they are. Mr. Kerberger also, it is my impression they both died in Clintonville. Mr. Booth disposed of this 40 acres and purchased the farm now owned and occupied by Aug. Mavis in Section 2 on the County line road. The Kerberger's 40 is now in the possession of the Herzberg family. In Sec. 4, town of DuPont, south of the Herzberg and Kroll farms resided a family by name of J. C. Genskow. He is not a pioneer but the son of one of the earliest to locate in this section of the country, sometime in the early 60's. There is no exact date but they were living here during the Civil War. Two families by the names of John and Charles Genskow, Germans, came and located in the town of Grant, 2 1/2 or 3 miles north-east of Perry's Mill. Their experience in the early years of their first coming must have been well worth recording. That it was one of hardships and toils we can take for granted for it could be other in 1875. They had cleared away the lumber and stone, and like others of those who were determined to conquer were prosperous and well to do farmers. They have passed away their children and grand-children are left to take up the duties of life. H. C. Genskow is the son of Chas. He was born in Dodge County and came here when 2 1/2 years old. He has been a resident of Dupont for many years. In 1900 at the time of taking the census there was a house full of children, boys and girls. I haven't heard that anything ever happened to them but believe that if any are fitted for service they are ready to respond to the country call. I have known John from a boy as a faithful hardworking man, his farm shows prosperity and comfort. I think there were other children, brothers and sisters. I have no record. I was better acquainted with the John Genshkow family then with father's. These reminiscences are mostly from memory where I can get dates or not of interest will use them if there errors hey are made with no thought to misconstrue.

Daily Northwestern – Oshkosh, WI – August 24, 1917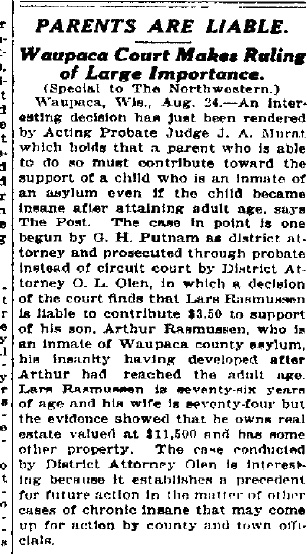 If you have articles you would like to submit for posting please email me.
Return to news article Index Return to homepage
Copyright © 2000-2011 Paula Vaughan